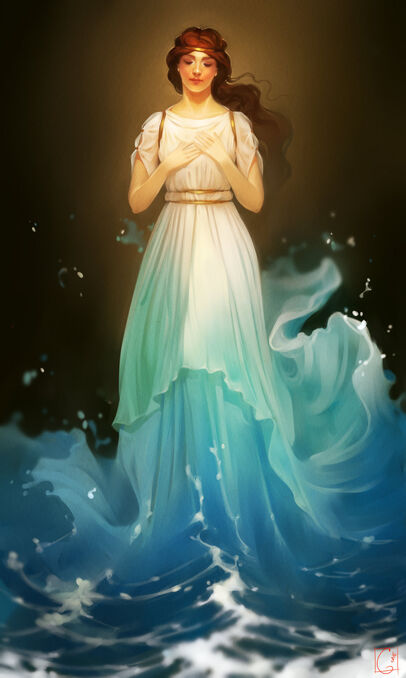 Aphrodite is the Greek goddess of love, beauty, pleasure, and procreation. Her Roman equivalent is the goddess Venus, as such she is identified with the planet Venus. As with many ancient Greek deities, there is more than one story about her origins. According to Hesiod's Theogony, she was born when Cronus cut off Ouranos genitals and threw them into the sea, and she arose from the sea foam, while according to Homer's Iliad, she is the daughter of Zeus and Dione.
Because of her immense beauty, Zeus feared that the other gods will become violent with each other in their rivalry to possess her, and thus incite a war between the deities. To forestall this, he forces her to marry Hephaestus, the dour, humorless god of smithing. In another version of the story, his mother, Hera casts him off Olympus, deeming him too ugly and deformed to inhabit the home of the gods. His revenge is to trap his mother in a magic throne. In return for her release, he demands to be given Aphrodite's hand in marriage.
Hephaestus is overjoyed to be married to the goddess of beauty, and forges her beautiful jewelry, including the cestus, a girdle, that makes her even more irresistible to men. Her unhappiness with her marriage causes Aphrodite to seek other male companionship; most often Ares, the volatile god of war, because she is attracted to his violent nature.