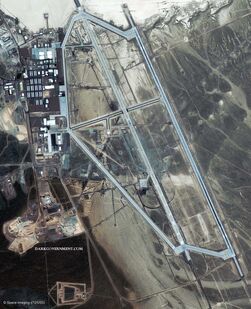 Area 51 is a remote detachment of Edwards Air Force Base, within the Nevada Test and Training Range. According to the Central Intelligence Agency (CIA), the correct names for the facility are Homey Airport and Groom Lake, though the name Area 51 was used in a CIA document from the Vietnam War. Other names used for the facility include Dreamland, and nicknames Paradise Ranch,[6] Home Base and Watertown. The special use airspace around the field is referred to as Restricted Area 4808 North.
The base's current primary purpose is publicly unknown; however, based on historical evidence, it most likely supports the development and testing of experimental aircraft and weapons systems (black projects). The intense secrecy surrounding the base has made it the frequent subject of conspiracy theories and a central component to Unidentified Flying Object folklore.
Although the base has never been declared a secret base, all research and occurrences in Area 51 are Top Secret/Sensitive Compartmented Information. In July 2013, following a Freedom of Information Act (FOIA) request filed in 2005, the CIA publicly acknowledged the existence of the base for the first time, declassifying documents detailing the history and purpose of Area 51.
Area 51 is located in the southern portion of Nevada in the western United States, 83 miles (134 km) north-northwest of Las Vegas. Situated at its center, on the southern shore of Groom Lake, is a large military airfield. The site was acquired by the United States Air Force in 1955, primarily for the flight testing of the Lockheed U-2 aircraft. The area around Area 51, including the small town of Rachel on the "Extraterrestrial Highway", is a popular tourist destination.
Its secretive nature and undoubted connection to classified aircraft research, together with reports of unusual phenomena, have led Area 51 to become a focus of modern UFO theories. Some of the activities mentioned in such theories at Area 51 include:
The storage, examination, and reverse engineering of crashed alien spacecraft (including material supposedly recovered at Roswell), the study of their occupants (living and dead), and the manufacture of aircraft based on alien technology.
Meetings or joint undertakings with extraterrestrials.
The development of exotic energy weapons for the Strategic Defense Initiative (SDI) or other weapons programs.
The development of means of weather control.
The development of time travel and teleportation technology.
The development of unusual and exotic propulsion systems related to the Aurora Program.
Activities related to a supposed shadowy one world government or the Majestic 12 organization.
Ad blocker interference detected!
Wikia is a free-to-use site that makes money from advertising. We have a modified experience for viewers using ad blockers

Wikia is not accessible if you've made further modifications. Remove the custom ad blocker rule(s) and the page will load as expected.