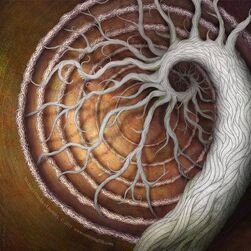 The axis mundi in certain beliefs and philosophies, is the world center, or the connection between Heaven and Earth. As the celestial pole and geographic pole, it expresses a point of connection between sky and earth where the four compass directions meet.  The souls in Heaven depending on who they are can see the Axis as different things. For example, one soul can see the axis mundi as a river while another can see it as a road.
At this point travel and correspondence is made between higher and lower realms. Communication from lower realms may ascend to higher ones and blessings from higher realms may descend to lower ones and be disseminated to all. The spot functions as the omphalos (navel), the world's point of beginning.
The symbol originates in a natural and universal psychological perception: that the spot one occupies stands at "the center of the world". This space serves as a microcosm of order because it is known and settled. Outside the boundaries of the microcosm lie foreign realms that, because they are unfamiliar or not ordered, represent chaos, death or night.
Plants often serve as images of the axis mundi. The image of the Cosmic Tree provides an axis symbol that unites three planes: sky (branches), earth (trunk) and underworld (roots). 
Ad blocker interference detected!
Wikia is a free-to-use site that makes money from advertising. We have a modified experience for viewers using ad blockers

Wikia is not accessible if you've made further modifications. Remove the custom ad blocker rule(s) and the page will load as expected.