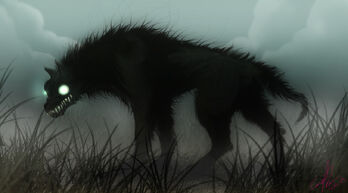 A black dog is the name given to a being found primarily in the folklores of the British Isles. The black dog is essentially a nocturnal apparition, often said to be associated with the Devil or a Hellhound. Its appearance was regarded as a portent of death. It is generally supposed to be larger than a normal dog, and often has large, glowing eyes.
Despite their name, these creatures are not necessarily black, as there have been reports of them being white, spotted, yellow and even brown. Sometimes, though very rarely, there are reports of Cerberean Black Dogs meaning they have two or three heads. The Hellhound's canine teeth are often described as being longer than average, and, to many people, seem to be grinning at some hidden knowledge, rather like a canine Cheshire Cat. Black Dogs may be benevolent; they may be malicious; or they may be neither.
It is often associated with electrical storms (such as Black Shuck's appearance at Bungay, Suffolk), and also with crossroads, places of execution and ancient pathways. Black Dogs are also associated with fire, specifically, the flames surrounding the hound and the presence of scorched earth and/or claw marks burned into wood or metal left in the beast's wake.
Black dogs are almost universally regarded as malevolent, and a few, such as the Barghest, are said to be directly harmful. Some, however, like the Gurt Dog in Somerset and the Black Dog of the Hanging Hills in Connecticut, are said to behave benevolently.
Ad blocker interference detected!
Wikia is a free-to-use site that makes money from advertising. We have a modified experience for viewers using ad blockers

Wikia is not accessible if you've made further modifications. Remove the custom ad blocker rule(s) and the page will load as expected.