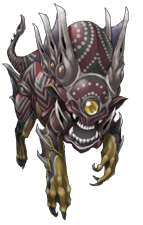 The bunyip, or kianpraty, is a large mythical creature from Aboriginal mythology, said to lurk in swamps, billabongs, creeks, riverbeds, and waterholes.
Descriptions of bunyips vary widely, but one of its most most common features in many 19th-century newspaper accounts include a dog-like face, a crocodile like head, dark fur, a horse-like tail, flippers, and walrus-like tusks or horns or a duck-like bill.
Ad blocker interference detected!
Wikia is a free-to-use site that makes money from advertising. We have a modified experience for viewers using ad blockers

Wikia is not accessible if you've made further modifications. Remove the custom ad blocker rule(s) and the page will load as expected.