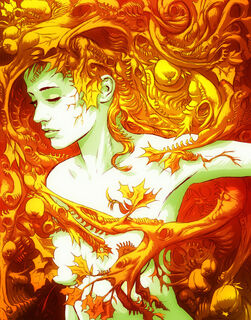 Demeter is the goddess of the harvest and agriculture, daughter of Cronus and Rhea, who presided over grains and the fertility of the earth. Though Demeter is often described simply as the goddess of the harvest, she presided also over the sacred law, and the cycle of life and death.
It was believed that Demeter made the crops grow each year; thus the first loaf of bread made from the annual harvest was offered to her. She was the goddess of the earth, of agriculture, and of fertility in general. Sacred to her are livestock and agricultural products, poppy, narcissus and the crane.
Demeter was intimately associated with the seasons. Her daughter Persephone was abducted by Hades to be his wife in the underworld. In a fit of anger and sorrow at her daughter's loss, Demeter laid a curse on the world that caused plants to wither and die, and the land to become desolate. Zeus, alarmed for the barren earth, sought for Persephone's return.
However, because she had eaten the cursed pomegrante while in the underworld, Hades had a claim on her. Therefore, it was decreed that Persephone would spend four months each year in the underworld. During these months Demeter would grieve for her daughter's absence, withdrawing her gifts from the world, creating winter. Her return brought the spring.