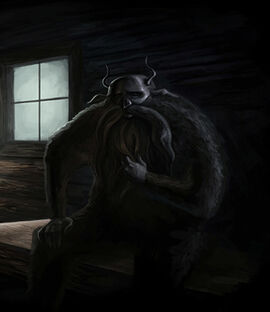 A domovoi is a protective house spirit in Slavic folklore. Domovoi are masculine, typically small, bearded, and sometimes covered in hair all over. According to some traditions, domovye take on the appearance of current or former owners of the house and have a grey beard, sometimes with tails or little horns. There are tales of neighbors seeing the master of the house out in the yard while in fact the real master was asleep in bed. It has also been said that domovoi can take on the appearance of cats or dogs. The domovoi is more often heard than seen and his voice is said to be hollow and harsh.
Traditionally, every house is said to have its own domovoi who lives either in the stove, under the threshold, in the cattle shed, or in the stables. The center of the house is also said to be their domain. The domovoi is seen as the home's guardian, and if he is kept happy he maintains peace and order and rewards the household by helping with household chores and field work. To stay in his good graces, his family leaves him gifts such as milk, porridge, tobacco, bread, and salt.
If angered by the family's slovenliness, disrespect, or abuse, the domovoi acts in a way resembling a poltergeist but is rarely harmful. If he becomes irretrievably offended he abandons the family. In times past, this flight was viewed as a great catastrophe as his benevolence was essential to the livelihood and well-being of the household.
The domovoi is also an oracle, as his behavior foretells or forewarns about the future. If he laughs, sings, jokes, or dances good times can be expected, and if he strums a comb there is a wedding in the future, but if he wails at night, extinguishes a candle or makes himself visible it means a family member, usually the head of the household, will die. The touch of the domovoi is also a harbinger. If his furry hand feels warm, good fortune is indicated; however, if his touch is icy cold, misfortune is coming.
Ad blocker interference detected!
Wikia is a free-to-use site that makes money from advertising. We have a modified experience for viewers using ad blockers

Wikia is not accessible if you've made further modifications. Remove the custom ad blocker rule(s) and the page will load as expected.