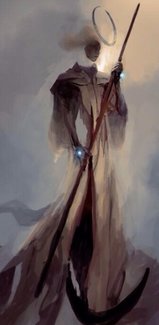 Dumah, or Douma in Aramaic, is the angel of silence and of the stillness of death. Dumah is also the tutelary angel of Egypt, prince of Hell, and angel of vindication.
The Zohar speaks of him as having "tens of thousands of angels of destruction" under him, and as being "Chief of demons in Hell with 12,000 myriads of attendants, all charged with the punishment of the souls of sinners."
In the Babylonian legend of the descent of Istar into Hades, Dumah shows up as the guardian of the 14th gate.
Ad blocker interference detected!
Wikia is a free-to-use site that makes money from advertising. We have a modified experience for viewers using ad blockers

Wikia is not accessible if you've made further modifications. Remove the custom ad blocker rule(s) and the page will load as expected.