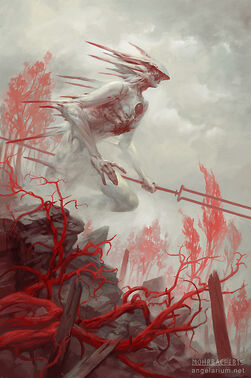 Gadreel, the Wall of God, is listed as one of the chiefs in the fallen Grigori of angels. This is depicted in the second section of the "Book of Enoch"; "Parables". He is said to have been responsible for teaching man warfare. This contradicts the first section of Enoch, which claims that Azazel was responsible for doing this.
Gadreel was mentioned as the third of five "satans" who led other angels into copulating with humans, leading to the creation of the giant-like Nephilim. The others were called Asbeel ("deserter from God"), Penemue ("the inside"), and Tamiel ("covered hand").
Ad blocker interference detected!
Wikia is a free-to-use site that makes money from advertising. We have a modified experience for viewers using ad blockers

Wikia is not accessible if you've made further modifications. Remove the custom ad blocker rule(s) and the page will load as expected.