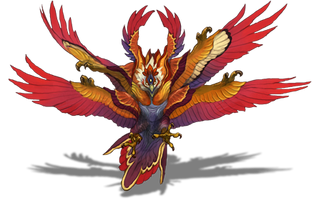 The Garuda is a large mythical bird or bird-like creature that appears in both Hindu and Buddhist mythology.
In Hindu mythology, a Garuda is a lesser Hindu divinity, usually the mount of Vishnu. Garuda is depicted as having a golden body, white face, red wings, and an eagle's beak, but with a strong man's body. He wears a crown on his head. He is ancient and has size enough to block out the sun.
In Buddhist mythology, the garudas are enormous predatory birds with intelligence and social organization. Like the Nagas, they combine the characteristics of animals and divine beings, and may be considered to be among the lowest devas. In Japan, he is called the Karura, a beast that breathes fire and attacks anyone unless they convert to the teachings of Dainichi Nyorai or unless they are a dragon wearing a Buddhist talisman.
The exact size of the garuda is uncertain, but its wings are said to have a span of many miles. This may be a poetic exaggeration, but it is also said that when a garuda's wings flap, they create hurricane-like winds that darken the sky and blow down houses. A human being is so small compared to a garuda that a man can hide in the plumage of one without being noticed. They are also capable of tearing up entire banyan trees from their roots and carrying them off.
In both Hindu and Buddhist mythologies, the Garuda is an enemy of the Naga race.
Ad blocker interference detected!
Wikia is a free-to-use site that makes money from advertising. We have a modified experience for viewers using ad blockers

Wikia is not accessible if you've made further modifications. Remove the custom ad blocker rule(s) and the page will load as expected.