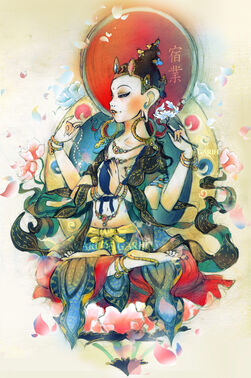 "I can die happily. I have not kept a single teaching hidden in a closed hand. Everything that is useful for you, I have already given. Be your own guiding light."
Gautama Buddha, also known as Siddhārtha Gautama, or simply the Buddha, after the title of Buddha, was an ascetic and sage, on whose teachings Buddhism was founded. He is believed to have lived and taught mostly in the eastern part of Ancient India sometime between the sixth and fourth centuries BCE. The Buddha was also responsible for the imprisonment of the Monkey King known as Sun Wukong after he defied the Heavens.
Although born a prince, he realized that conditioned experiences could not provide lasting happiness or protection from suffering. After a long spiritual search he went into deep meditation, where he realized the nature of mind. He achieved the state of unconditional and lasting happiness: the state of enlightenment, of buddhahood. This state of mind is free from disturbing emotions and expresses itself through fearlessness, joy and active compassion. For the rest of his life, the Buddha taught anyone who asked how they could reach the same state.
The Buddha decided he had to leave his royal responsibilities and his family in order to realize full enlightenment. He left the palace secretly, and set off alone into the forest. Over the next six years, he met many talented meditation teachers and mastered their techniques.
Always he found that they showed him mind's potential but not mind itself. Finally, at a place called Bodhgaya, the future Buddha decided to remain in meditation until he knew mind's true nature and could benefit all beings. After spending six days and nights cutting through mind's most subtle obstacles, he reached enlightenment on the full moon morning of May, a week before he turned thirty-five.
At the moment of full realization, all veils of mixed feelings and stiff ideas dissolved and Buddha experienced the all-encompassing here and now. All separation in time and space disappeared. Past, present, and future, near and far, melted into one radiant state of intuitive bliss. He became timeless, all-pervading awareness. Through every cell in his body he knew and was everything. He became Buddha, the Awakened One. After his enlightenment, Buddha traveled on foot throughout northern India. He taught constantly for forty-five years. People of all castes and professions, from kings to courtesans, were drawn to him. He answered their questions, always pointing towards that which is ultimately real.
Ad blocker interference detected!
Wikia is a free-to-use site that makes money from advertising. We have a modified experience for viewers using ad blockers

Wikia is not accessible if you've made further modifications. Remove the custom ad blocker rule(s) and the page will load as expected.