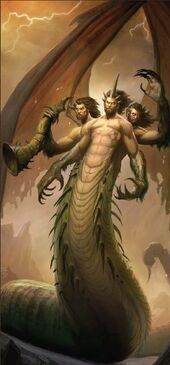 Geryon is a monster that is the son of Chrysaor and Callirrhoe and grandson of Medusa, was a fearsome giant who dwelt on the island Erytheia of the mythic Hesperides in the far west of the Mediterranean.
Geryon is portrayed as having one head and three bodies with a total of two arms. Some accounts state that he had six legs as well while others state that the three bodies were joined to one pair of legs. Apart from these strange features, his appearance was that of a warrior.
Geryon perished when he attempted to retrieve his cattle from Hercules during his Twelve Labors. He pursued Hercules at the River Anthemus but fell victim to an arrow that had been dipped in the venomous blood of the Lernaean Hydra, shot so forcefully by Hercules that it pierced Geryon's forehead.
After his death, Geryon was sent to the Inferno and has become the Monster of Fraud, a winged beast with the face of an honest man, the paws of a lion, the body of a wyvern, and a poisonous sting at the tip of his tail. He dwells somewhere in the depths below the cliff between the seventh and eighth circles of Hell (the circles of violence and simple fraud, respectively).
Ad blocker interference detected!
Wikia is a free-to-use site that makes money from advertising. We have a modified experience for viewers using ad blockers

Wikia is not accessible if you've made further modifications. Remove the custom ad blocker rule(s) and the page will load as expected.