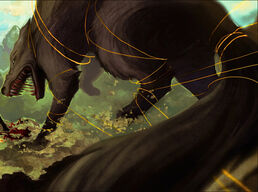 Gleipnir (Old Norse "open one") is the binding that holds the mighty wolf Fenrir. The Gods had attempted to bind Fenrir twice before with huge chains of metal, but Fenrir was able to break free both times. Therefore, they commissioned the dwarves to forge a chain that was impossible to break. To create a chain to achieve the impossible, the dwarves fashioned the chain out of six supposedly impossible things:
The sound of a cat's footfall

Therefore, even though Gleipnir is as thin as a silken ribbon, it is stronger than any iron chain. It was forged by the dwarves in their underground realm of Niðavellir.
Gleipnir, having bound Fenrir securely, was the cause of Tyr's lost hand, for Fenrir bit it off in revenge when he was not freed. Gleipnir is said to hold until Ragnarök, when Fenrir will finally break free and devour Odin.
Ad blocker interference detected!
Wikia is a free-to-use site that makes money from advertising. We have a modified experience for viewers using ad blockers

Wikia is not accessible if you've made further modifications. Remove the custom ad blocker rule(s) and the page will load as expected.