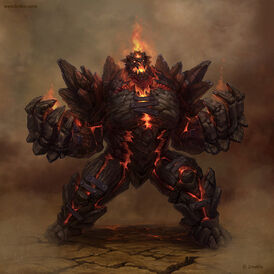 In Jewish folklore, a golem is an animated anthropomorphic being created entirely from inanimate matter. Having a golem servant was seen as the ultimate symbol of wisdom and holiness, and there are many tales of golems connected to prominent rabbis throughout the Middle Ages.
Other attributes of the golem were gradually added over time. In many tales the Golem is inscribed with magic or religious words that keep it animated. Writing one of the names of God on its forehead, a slip of paper attached to its forehead, or on a clay tablet under its tongue, or writing the word Emet (אמת, 'truth' in the Hebrew language) on its forehead are examples of such words. By erasing the first letter in Emet to form Meit (מת, 'dead' in Hebrew) the golem could be deactivated.
Ad blocker interference detected!
Wikia is a free-to-use site that makes money from advertising. We have a modified experience for viewers using ad blockers

Wikia is not accessible if you've made further modifications. Remove the custom ad blocker rule(s) and the page will load as expected.