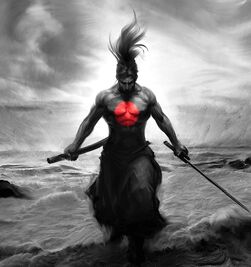 Hachiman is the shinto god of archery and war, incorporating elements from both Shinto and Buddhism. Although often called the god of war, he is more correctly defined as the tutelary god of warriors. He is also the divine protector of Japan, the Japanese people and the Imperial House, the Minamoto clan ("Genji") and most samurai worshiped him. The name means "God of Eight Banners", referring to the eight heavenly banners that signaled the birth of the divine Emperor Ōjin. His symbolic animal and messenger is the dove.
Since ancient times Hachiman was worshiped by peasants as the god of agriculture and by fishermen who hoped he would fill their nets with much fish. In Shinto, he became identified by legend as the Emperor Ōjin, son of Empress Jingū, from the 3rd–4th century of the Common Era.
Because as Emperor Ōjin he was an ancestor of the Minamoto clan, Hachiman became the tutelary kami of the Minamoto samurai clan. Minamoto no Yoshiie, upon coming of age at Iwashimizu Shrine in Kyoto, took the name Hachiman Taro Yoshiie and through his military prowess and virtue as a leader, became regarded and respected as the ideal samurai through the ages.
After Minamoto no Yoritomo became shogun and established the Kamakura shogunate, Hachiman's popularity grew and he became by extension the protector of the warrior class the shogun had brought to power. For this reason, the shintai of a Hachiman shrine is usually a stirrup or a bow. The crest of Hachiman is in the design of a mitsudomoe, a round whirlpool or vortex with three heads swirling right or left. Many samurai clans used this crest as their own
Ad blocker interference detected!
Wikia is a free-to-use site that makes money from advertising. We have a modified experience for viewers using ad blockers

Wikia is not accessible if you've made further modifications. Remove the custom ad blocker rule(s) and the page will load as expected.