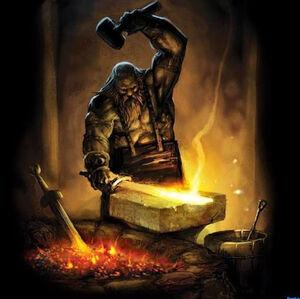 Hephaestus is the Greek god of blacksmiths, craftsmen, artisans, sculptors, metals, metallurgy, fire and volcanoes. In Greek mythology, Hephaestus was the son of Zeus and Hera, the king and queen of the gods. In another version, he was Hera's parthenogenous child, rejected by his mother because of his deformity and thrown off of Mount Olympus and down to earth.
As a smithing god, Hephaestus made all the weapons of the gods in Olympus. He had his own palace on Olympus, containing his workshop with anvil and twenty bellows that worked at his bidding. Hephaestus crafted much of the magnificent equipment of the gods, and almost any finely wrought metalwork imbued with powers that appears in Greek myth is said to have been forged by Hephaestus. He designed Hermes' winged helmet and sandals, the Aegis breastplate, Aphrodite's famed girdle, Agamemnon's staff of office, Achilles' armor, Heracles' bronze clappers, Helios' chariot, the shoulder of Pelops, and Eros' bow and arrows.
Hera ejected Hephaestus from the heavens because he was "shrivelled of foot". He fell into the ocean and was raised by Thetis. But upon returning, Hephaestus gained revenge against Hera for rejecting him by making her a magical golden throne, which, when she sat on it, did not allow her to stand up. The other gods begged Hephaestus to return to Olympus to let her go, but he refused, saying "I have no mother".
At last, Dionysus fetched him, intoxicated him with wine, and took the subdued smith back to Olympus on the back of a mule accompanied by revelers. At last, he was finally convinced to release Hera of her humiliating predicament. 
Hephaestus is also known to be married to the goddess Aphrodite, however, she was not exactly faithful to her husband as Aphrodite had an affair with Ares, the god of war. Eventually, Hephaestus discovered Aphrodite's promiscuity through Helios, the all-seeing Sun, and planned a trap during one of their trysts. While Aphrodite and Ares lay together in bed, Hephaestus ensnared them in an unbreakable chain-link net so small as to be invisible and dragged them to Mount Olympus to shame them in front of the other gods for retribution. However, the gods simply laughed at the sight of the naked lovers.