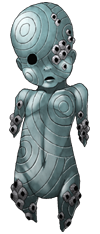 Hiruko is the Japanese god of fishermen, luck, and workingmen, as well as the guardian of the health of small children. He is one of the Seven Gods of Fortune. In ancient times he is the first child of Izanagi and Izanami, born without bones (or, in some stories, without arms and legs) due to his mother's transgression during the marriage ritual. Hiruko struggled to survive but, as he could not stand, he was cast to the sea in a boat of reeds before his third birthday.
Ad blocker interference detected!
Wikia is a free-to-use site that makes money from advertising. We have a modified experience for viewers using ad blockers

Wikia is not accessible if you've made further modifications. Remove the custom ad blocker rule(s) and the page will load as expected.