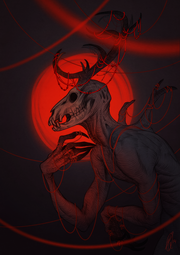 The Jersey Devil, sometimes called the Leeds Devil, is a legendary creature or cryptid said to inhabit the Pine Barrens in southern New Jersey. The creature is often described as a flying biped with hooves, but there are many variations.
Most accounts of the Jersey Devil legend attribute the creature to a "Mother Leeds", a supposed witch, although the tale has many variations. According to one version, she invoked the devil while giving birth to her 13th child, and when the baby was born, it either immediately or soon afterwards transformed into a devil like creature with large, leathery wings and blazing red eyes and flew off into the surrounding pines after escaping through the chimney of the cabin.
Ad blocker interference detected!
Wikia is a free-to-use site that makes money from advertising. We have a modified experience for viewers using ad blockers

Wikia is not accessible if you've made further modifications. Remove the custom ad blocker rule(s) and the page will load as expected.