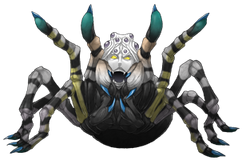 The Jorōgumo is a type of Yōkai, a creature, ghost or goblin of Japanese folklore. According to some stories, a Jorōgumo is a spider that can change its appearance into that of a seductive woman. Legend has it that a beautiful woman would entice a man into a quiet shack and begin to play a Biwa, a type of Japanese lute. While the victim would be distracted by the sound of the instrument, she binds her victim in spider silk threads in order to devour the unsuspecting person as her next meal.
In Japanese legend, when a spider turns 400 years old, it gains magical powers. In many of the stories concerning the Jorōgumo, it changes its appearance into a beautiful woman to ask a samurai to marry her, or takes the form of a young woman carrying a baby (which may turn out to be a spider's eggsack).
Ad blocker interference detected!
Wikia is a free-to-use site that makes money from advertising. We have a modified experience for viewers using ad blockers

Wikia is not accessible if you've made further modifications. Remove the custom ad blocker rule(s) and the page will load as expected.