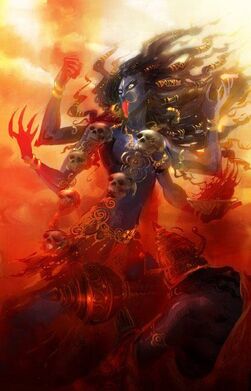 Kali is a Hindu goddess associated with death and destruction. The name Kali means "black", but has by folk etymology come to mean "force of time (kala)". Despite her negative connotations, she is today considered the goddess of time and change.
Although sometimes presented as dark and violent, her earliest incarnation as a figure of annihilation still has some influence. More complex Tantric beliefs sometimes extend her role so far as to be the "ultimate reality" or Brahma. She is also revered as Bhavatarini (literally "redeemer of the universe"). Comparatively recent devotional movements largely conceive Kali as a benevolent mother goddess.
Kali is represented as the consort of god Shiva, on whose body she is often seen standing. She is associated with many other Hindu goddesses like Durga, Bhadrakali, Sati, Rudrani, Parvati and Chamunda. She is the foremost among the Dasa-Mahavidyas, ten fierce Tantric goddesses.
Kali is portrayed mostly in two forms: the popular four-armed form and the ten-armed Mahakali form. In both of her forms, she is described as being black in color but is most often depicted as blue in popular Indian art. Her eyes are described as red with intoxication, and in absolute rage, her hair is shown disheveled, small fangs sometimes protrude out of her mouth, and her tongue is lolling. She is often shown naked or just wearing a skirt made of human arms and a garland of human heads. She is also accompanied by serpents and a jackal.
Kali's most common four armed iconographic image shows each hand carrying variously a sword, a trishul (trident), a severed head, and a bowl or skull-cup (kapala) catching the blood of the severed head.
Two of these hands, usually the left, are holding a sword and a severed head. The sword signifies divine knowledge and the human head signifies human ego which must be slain by divine knowledge in order to attain moksha. The other two hands, usually the right, are in the abhaya (fearlessness) and varada (blessing) mudras, which means her initiated devotees, or anyone worshipping her with a true heart, will be saved as she will guide them here and in the hereafter.
Ad blocker interference detected!
Wikia is a free-to-use site that makes money from advertising. We have a modified experience for viewers using ad blockers

Wikia is not accessible if you've made further modifications. Remove the custom ad blocker rule(s) and the page will load as expected.