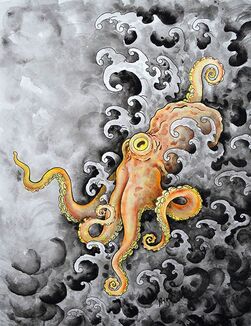 The Kraken is a legendary sea monster, a leviathan sent to prey on unwary ships and mariners. A fearsome creature with tentacles, closely resembling a giant squid, the Kraken was said to be the length of 10 ships. This terrible beast would be a subject of many legends and lore that circulated for centuries on the Seven Seas. The sheer size and fearsome appearance attributed to the Kraken have made it a common ocean-dwelling monster.
Few had seen the Kraken and lived to tell the tale. The word "Kraken" was first heard in seagoing lore and mythology, referring to a creature whose many arms or tentacles could reach to the top of a ship's mainmast and could without any great effort capsize a fully-rigged vessel. The huge suckers on the Kraken's tentacles were strong enough to pull the flesh clean away from a sailor's face.
Legends of the Kraken go back many years of seagoing mythology. The word "Kraken" was first heard in 12th-century Norwegian legends, referring to a creature the size of an island, and usually depicted as a giant squid. In these legends, the Kraken normally lived at great depths, but have been sighted at the surface and have reportedly attacked ships. 
In Norse mythology, the Kraken was a creature from the sea so large that on the surface it was mistaken for a chain of islands. Seamen were often lost when they camped on what they thought was an island, only to be drowned when the creature swam back to the bottom of the sea. It had large tentacles and suckers with which it could seize large ships and drag them down. The Norse believed the Kraken would rise to the surface at the end of the world.
Ad blocker interference detected!
Wikia is a free-to-use site that makes money from advertising. We have a modified experience for viewers using ad blockers

Wikia is not accessible if you've made further modifications. Remove the custom ad blocker rule(s) and the page will load as expected.