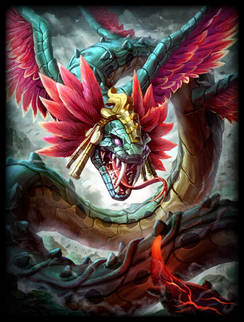 Kukulkan, the Feathered Serpent of the Nine Worlds, is a serpentine god in Mayan mythology. Awesome and terrible to behold, majestic yet sinister, Kukulkan embodies the danger and beauty of a double-edged sword. He is known by many names and worn the face of man and beast and worshiped with the kind of reverence born of fear. Kukulkan is also said to have a connection with its Aztec counterpart Quetzalcoatl.
Dotted across the vast forests of the Mayan lands stand great pyramids bearing his serpentine likeness, architecturally perfect so as to catch the light and bring to life those slithering stone statues. Painted in blood, sacrifices were made upon these sites to appease Kukulkan. He is the lord of death and rebirth.
To the world, he brought the four elements, but of wind he keeps control. A great gem, worn about his sinuous neck is said to be the source of all air. To the people, he brought the calendar. That glorious, portentous stone disk, which counts time to a distant future, only to stop abruptly and with horrifying finality. Sacrifices made for his favor were measured in blood, but mortal blood is weak.
Ad blocker interference detected!
Wikia is a free-to-use site that makes money from advertising. We have a modified experience for viewers using ad blockers

Wikia is not accessible if you've made further modifications. Remove the custom ad blocker rule(s) and the page will load as expected.