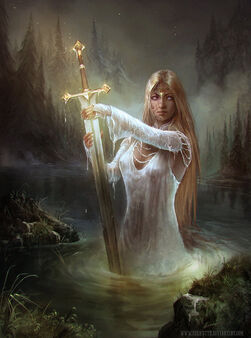 The Lady of the Lake was the foster-mother of Sir Lancelot and raised him beneath the murky waters of her Lake. She is, however, best known for her presentation to King Arthur of his magical sword Excalibur, through the intervention of the King's druidic adviser, Merlin who was constantly worried that his monarch would fall in battle.
The Lady of the Lake is usually referred to by various spellings of the names Nimue or Vivienne. Nimue is thought to be related to Mneme, the shortened form of Mnemosyne, one of the nine water-nymph Muses of Roman and Greek Mythology who gave weapons, not unlike Arthur's sword, to the heroic Perseus.
Merlin had met the Lady at the Fountain of Barenton (Brittany) and fallen so deeply in love with her that he agreed to teach her all his mystical powers. The lady became Merlin's scribe, who recorded his prophecies, as well as his lover. Unfortunately however, over the years, the Lady became so powerful that her magical skills outshone even her teacher and she imprisoned him in Glass Tower.
To some extent she stepped into Merlin's role at King Arthur's side, but the old man's removal contributed considerably to the great monarch's downfall. The Lady of the Lake was eventually obliged to reclaim her sword when Arthur was fatally wounded at the Battle of Camlann and Excalibur was hurled back to misty waters. She was later one of the three Queens who escorted the King to Avalon.
Since the Lady of the Lake's place as Merlin's student and lover was largely overtaken by Morgan Le Fay, a lady whose very name in Breton indicates a water-nymph, it seems that the two were aspects of the same character. Indeed, as both appear among the three queens who escort Arthur to Avalon, she no doubt had a third aspect making up the well-known theme of a Celtic Triple-Goddess.
Ad blocker interference detected!
Wikia is a free-to-use site that makes money from advertising. We have a modified experience for viewers using ad blockers

Wikia is not accessible if you've made further modifications. Remove the custom ad blocker rule(s) and the page will load as expected.