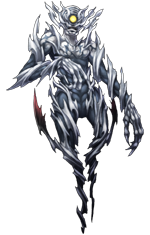 Libicocco is one of the twelve demons of the Malebranche, with the name meaning "Libyan Hothead". Libicocco is also the sole female member of the Malebranche, but that by no means can it allow one to underestimate her. Much like her cohorts, her task within the Eighth Circle is reflective off of the true meaning of her name.
She is said to have the ferocity of a raging tempest, and is charged with bringing down scorching heat that is equal or even exceeds that of the the most hazardous and harsh deserts in the human world. While the heat itself is capable of bringing physical harm, it can also severely harm one's mental state.
The scorching heat of the desert can cause one's sanity to deteriorate as well as hallucinate. But in the Eighth Circle, it is far more gruesome as she causes the damned souls to wander in a desert, eternally scorched by the heat, and cause their will and spirit to shatter beyond repair.
Ad blocker interference detected!
Wikia is a free-to-use site that makes money from advertising. We have a modified experience for viewers using ad blockers

Wikia is not accessible if you've made further modifications. Remove the custom ad blocker rule(s) and the page will load as expected.