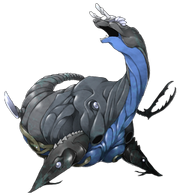 The Loch Ness Monster is a cryptid, a creature whose existence has been suggested but has not been discovered or documented by the scientific community. It is reputedly a large unknown animal that inhabits Loch Ness in the Scottish Highlands. It is similar to other supposed lake monsters in Scotland and elsewhere, though its description varies from one account to the next.
Evidence of its existence is anecdotal, with minimal and much-disputed photographic material and sonar readings. The most common speculation among believers is that the creature represents a line of long-surviving plesiosaurs
Ad blocker interference detected!
Wikia is a free-to-use site that makes money from advertising. We have a modified experience for viewers using ad blockers

Wikia is not accessible if you've made further modifications. Remove the custom ad blocker rule(s) and the page will load as expected.