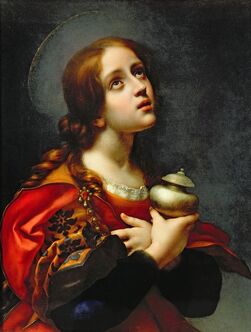 Mary Magdalene literally translated as Mary the Magdalene or Mary of Magdala, is a figure in Christianity who, according to the Bible, traveled with Jesus as one of his followers. She is said to have witnessed Jesus' crucifixion and resurrection. Within the four Gospels she is named at least 12 times, more than most of the apostles. Based off texts of the early Christian era in the third century, it seems that her status as an "apostle" rivals even Peter's.
The Gospel of Luke says seven demons had gone out of her, and the longer ending of Mark says Jesus had cast seven demons out of her. She is most prominent in the narrative of the crucifixion of Jesus, at which she was present. She was also present two days later, immediately following the sabbath, when, according to all four canonical Gospels, she was, either alone or as a member of a group of women, the first to testify to the resurrection of Jesus. John 20 and Mark 16:9 specifically name her as the first person to see Jesus after his resurrection.
Ideas that go beyond the gospel presentation of Mary Magdalene as a prominent representative of the women who followed Jesus have been put forward over the centuries. Mary Magdalene is considered to be a saint by the Catholic, Eastern Orthodox, Anglican, and Lutheran churches with a feast day of July 22. Other Protestant churches honor her as a heroine of the faith. The Eastern Orthodox churches also commemorate her on the Sunday of the Myrrhbearers, the Orthodox equivalent of one of the Western Three Marys traditions.
There are theories that say that Mary Magdalene is the wife of Jesus and even bore children with him. As such, Mary Magdalene was a "co-messiah", the wife of Jesus and the mother of his children, according to a translation of an ancient manuscript. This manuscript was a scrap of papyrus unveiled in 2012, known as the Gospel of Jesus' Wife, which forensics concluded that indeed traced back to Biblical times. The "Holy Bloodline of Jesus" theory furthers this marriage hypothesis, suggesting that the couple had children whose descendants can be traced through the following centuries and may even be alive today.
Ad blocker interference detected!
Wikia is a free-to-use site that makes money from advertising. We have a modified experience for viewers using ad blockers

Wikia is not accessible if you've made further modifications. Remove the custom ad blocker rule(s) and the page will load as expected.