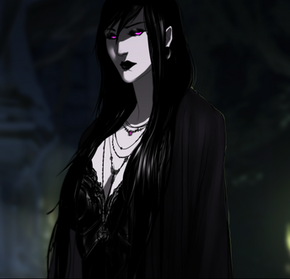 Morgan Le Fay is a powerful sorceress and antagonist of King Arthur and Queen Guinevere in Arthurian legend. Although always depicted as a practitioner of magic, over time her character became more and more evil until she began to be portrayed as a witch who was taught the black arts by Merlin. She is a seductive, megalomaniacal witch who wishes to overthrow Arthur, sometimes assigning to Morgan the role of seducing Arthur and giving birth to the wicked Mordred, although traditionally Mordred's mother was Morgan's sister, Morgause.
Morgan Le Fay is said to be Arthur's half-sister, daughter of Arthur's mother, Lady Igraine, and her first husband, Gorlois, Duke of Cornwall. She has at least two older sisters, Elaine and Morgause, the latter being the mother of Sir Gawain, the Green Knight, and the traitor, Mordred. As a fairy later transformed into a woman and King Arthur's half sister, she became an enchantress to continue her powers.
Morgan as a giver of healing ointments, but the lady is usually portrayed as a wicked enchantress who learned her initial mysterious skills from her corrupt education in an early Christian nunnery. Later, Merlin helped her to extend her magical powers. The story that she inticed King Arthur into an incestuous affair from which Mordred was born is, however, a misconception derived from the desire of modern authors to merge Morgan with her more sympathetic sister.
Morgan hated Arthur for his purity and plotted with her lover, Sir Accolon, to steal both Excalibur and the British throne. Arthur met Accolon in combat without his magical sword, but the Lady of the Lake helped him retrieve it and win the battle. In return, Morgan stole Excalibur's scabbard and threw it into the nearest lake. She eventually escaped Arthur's wrath by transforming her entourage into stone.
Another reason for this hatred is during her early practices of magic she is married by Uther to his ally Urien. She is unhappy with her husband and takes a string of lovers until she is caught by a young Guinevere, who expels her from court in disgust. Morgan continues her magical studies under Merlin, all the while plotting against Guinevere. Through both magic and mortal means, she tries to arrange Arthur's downfall, most famously when she arranges for her lover Sir Accolon to obtain the sword Excalibur and use it against Arthur in single combat. When this ploy fails, Morgan throws Excalibur's protective scabbard into a lake.
Ad blocker interference detected!
Wikia is a free-to-use site that makes money from advertising. We have a modified experience for viewers using ad blockers

Wikia is not accessible if you've made further modifications. Remove the custom ad blocker rule(s) and the page will load as expected.