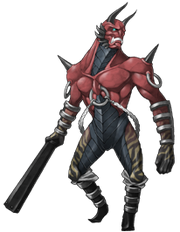 Oni are evil and vicious creatures from Japanese folklore, variously translated as demons, devils, ogres or trolls and are popular and iconic characters in Japanese art, literature and theatre. They are large and scary, standing taller than the tallest man, and sometimes many times that. They come in many varieties, but are most commonly depicted with red or blue skin, wild hair, two or more horns, and fang-like tusks. Other variations exist in different colors and with different numbers of horns, eyes, or fingers and toes. They wear loincloths made of the pelts of great beasts.
All oni possess extreme strength and constitution, and many of them are also accomplished sorcerers. They are ferocious demons, bringers of disaster, spreaders of disease, and punishers of the damned in Hell.
Oni are known for attacking villages and plundering food, riches, and women with their brute strength and strike fear with their hideous appearance. Oni are born when truly wicked humans die and end up in one of the many Buddhist Hells, transformed into Oni. They become the ogreish and brutal servants of Great Lord Enma, ruler of Hell, wielding iron clubs with which they crush and destroy humans solely for enjoyment.
An oni's task is to mete out horrible punishments such as peeling off skin, crushing bones, and other torments too horrible to describe to those who were wicked. Occasionally, when a human is so utterly wicked that his soul is beyond any redemption, he transforms into an oni during life, and remains on Earth to terrorize the living.