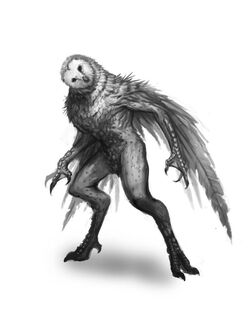 The Owlman, sometimes referred to as the Cornish Owlman, or the Owlman of Mawnan, is a purported owl-like cryptid that was supposedly sighted around mid-1976 in the village of Mawnan, Cornwall, England, United Kingdom.The Owlman is sometimes compared to America's Mothman in cryptozoological literature.
The Owlman story began when paranormal researcher Tony "Doc" Shiels was approached by a man, Don Melling, who had been visiting the area on holiday from Lancaster. Melling said that on April 17, 1976, his two daughters, 12-year-old June and her 9-year-old sister, Vicky, were walking through the woods near Mawnan church when they saw a large winged creature hovering above the church tower.
The girls were frightened and immediately ran to tell their father. According to Shiels, the family had become so perturbed by the sighting that they had abandoned their holiday three days early and that the father would not allow either of his daughters to be interviewed. Sheils was, however, provided with a drawing of the creature made by twelve-year-old June.
It is speculated that the Owlman is nothing but a massive Eurasian Eagle Owl, which can grow to more then two feet long and has a six foot wing span.
Ad blocker interference detected!
Wikia is a free-to-use site that makes money from advertising. We have a modified experience for viewers using ad blockers

Wikia is not accessible if you've made further modifications. Remove the custom ad blocker rule(s) and the page will load as expected.