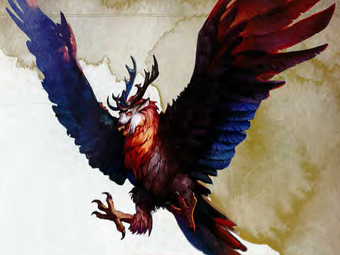 The Peryton is a mythological hybrid animal that is said to have the head, neck, forelegs and antlers of a stag, combined with the plumage, wings and hindquarters of a large bird, although some interpretations portray the Peryton as a deer in all but coloration and bird's wings.
According to Jorge Borges, Perytons lived in Atlantis until an earthquake destroyed the civilization and the creatures escaped by flight. A Peryton casts the shadow of a man until it kills one during its lifetime, at which time it starts to cast its own shadow. A Sibyl once prophesied that the Perytons would lead to the downfall of Rome.
Ad blocker interference detected!
Wikia is a free-to-use site that makes money from advertising. We have a modified experience for viewers using ad blockers

Wikia is not accessible if you've made further modifications. Remove the custom ad blocker rule(s) and the page will load as expected.