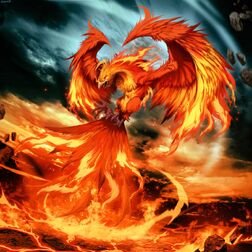 The phoenix is a mythical bird with a tail of beautiful gold and red plumage. It has a 500 to 1,000 year life-cycle, near the end of which it builds itself a nest of twigs that it then ignites; both nest and bird burn fiercely and are reduced to ashes, from which a new, young phoenix or phoenix egg arises, reborn anew to live again.
The new phoenix is destined to live as long as its old self. In some stories, the new phoenix embalms the ashes of its old self in an egg made of myrrh and deposits it in the Egyptian city of Heliopolis.
The bird was also said to regenerate when hurt or wounded by a foe, thus being almost immortal and invincible, it is also said that it can heal a person with a tear from its eyes and make them temporarily immune to death. The phoenix is a symbol of fire, divinity, resurrection and rebirth out of the ashes or chaos.
Ad blocker interference detected!
Wikia is a free-to-use site that makes money from advertising. We have a modified experience for viewers using ad blockers

Wikia is not accessible if you've made further modifications. Remove the custom ad blocker rule(s) and the page will load as expected.