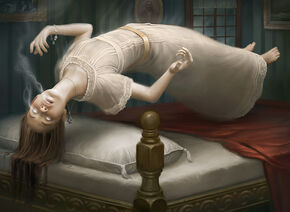 Possession also known as Demonic Possession or Spirit Possession, is held by many belief systems to be the control of an individual by a malevolent supernatural being. Atheists generally consider all such claims to be manifestations of a mental disorder. It is a term for the belief that animas, demons, extraterrestrials, gods, or spirits can take control of a human body. The concept of spirit possession exists in many religions, including Christianity, Buddhism, Haitian Voodoo, Wicca, Hinduism, Islam and Southeast Asian and African traditions.
Descriptions of possessions often include erased memories or personalities, convulsions, "fits" and fainting as if one were dying. Other descriptions include access to hidden knowledge (gnosis) and foreign languages (glossolalia), drastic changes in vocal intonation and facial structure, the sudden appearance of injuries (scratches, bite marks) or lesions, and superhuman strength. Unlike in channeling or other forms of possession, the subject has no control over the possessing entity and so it will persist until forced to leave the victim, usually through a form of exorcism.
In a 1969 study funded by the National Institute of Mental Health, spirit possession beliefs were found to exist in 74% of a sample of 488 societies in all parts of the world. Depending on the cultural context in which it is found, possession may be considered voluntary or involuntary and may be considered to have beneficial or detrimental effects to host. Within possession cults, the belief that one is possessed by spirits is more common among women than men.
Ad blocker interference detected!
Wikia is a free-to-use site that makes money from advertising. We have a modified experience for viewers using ad blockers

Wikia is not accessible if you've made further modifications. Remove the custom ad blocker rule(s) and the page will load as expected.