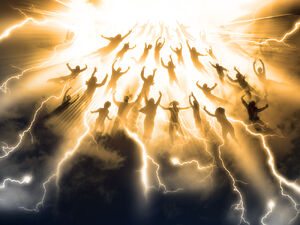 The Rapture refers to the belief that either before, or simultaneously with, the Second Coming of Jesus Christ to Earth, believers who have died will be raised and believers who are still alive and remain shall be caught up together with them (the resurrected dead believers) in the clouds to meet the Lord in the air.
The concept has its basis in various interpretations of the biblical book of First Thessalonians and how it relates to interpretations of various other biblical passages, such as those from Second Thessalonians, Gospel of Matthew, First Corinthians and the Book of Revelation.
The rapture will be instantaneous, in "the twinkling of an eye". Scripture nowhere encourages humans to try to determine the date of Jesus' return. Rather, they are to "keep watch, because they do not know on which day their Lord will come". We are to "be ready, because the Son of Man will come at an hour when we do not expect Him".
The timing of the Rapture sparks a great debate within Christianity. The tribulation is a seven-year period that immediately precedes the return of Christ and the establishment of His millennial kingdom, which lasts for 1,000 years. The first 3 ½ years of the tribulation will be a time of peace and cooperation, and the second 3 ½ years of the tribulation will be a time of war and catastrophe. At the midpoint of the tribulation, the Antichrist will proclaim himself god and require worship from all people of the world.
Many will bow down and worship the Antichrist, including taking his mark of worldwide registration. Some will refuse to worship the Antichrist and receive his mark, and many will be killed for this act of disobedience. The second half of the tribulation is referred to as the "Great Tribulation." There will be extraordinary catastrophes all over the world during this period.
So, the main debate on the Rapture is not what it is, but when it will occur in relation to the tribulation. In summary, the pre-tribulation view is that the rapture will happen before the tribulation period; the mid-tribulation view is that the rapture will occur half-way through the tribulation period; and the post-tribulation view is that the rapture will occur at the end of the tribulation period.
Ad blocker interference detected!
Wikia is a free-to-use site that makes money from advertising. We have a modified experience for viewers using ad blockers

Wikia is not accessible if you've made further modifications. Remove the custom ad blocker rule(s) and the page will load as expected.