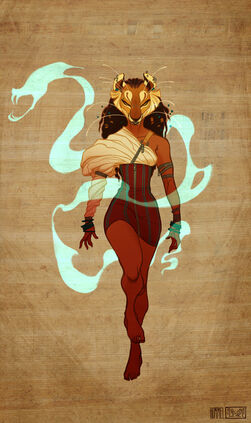 Sekhmet is a warrior goddess as well as goddess of healing, fire, dance, and love. She is depicted as a lioness, the fiercest hunter known to the Egyptians. It was said that her breath formed the desert. She was seen as the protector of the pharaohs and led them in warfare.
Having once unleashed her powers for the destruction of mankind, the Egyptians feared a repeat performance by Sekhmet. The Egyptian people developed an elaborate ritual in hopes she could be appeased. This ritual revolved around more than 700 statues of the goddess.
The ancient Egyptian priests were required to perform a ritual before a different one of these statues each morning and each afternoon of every single day of every single year. Only by the strictest adherence to this never-ending ritual could the ancient Egyptians be assured of their ability to placate Sekhmet.
Ad blocker interference detected!
Wikia is a free-to-use site that makes money from advertising. We have a modified experience for viewers using ad blockers

Wikia is not accessible if you've made further modifications. Remove the custom ad blocker rule(s) and the page will load as expected.