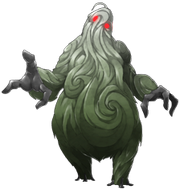 Swamp creatures are humanoid creatures similar to fish or resembling living piles of swamp mire. They live underwater and occasionally come to the surface, but only when provoked. Within modern American folk myth and legend a notable example is Louisiana's Honey Island Swamp monster.
Another notable example is the May River Swamp Creature that along with other rare and spectacular creatures occupies the marshes and supralittoral zones of the South Carolina lowcountry, near Bluffton, SC.
They seem to be akin to Kelpies, Kappa, the Loch Ness Monster, and muck monsters. Being only part humanoid, it is not popular belief that they are capable of speech, but in some cases, they have been capable of speech.
Ad blocker interference detected!
Wikia is a free-to-use site that makes money from advertising. We have a modified experience for viewers using ad blockers

Wikia is not accessible if you've made further modifications. Remove the custom ad blocker rule(s) and the page will load as expected.