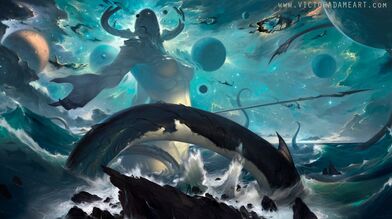 Tiamat is a chaos monster, a primordial goddess of the ocean, mating with Abzû (the god of fresh water) to produce younger gods. She is the symbol of the chaos of primordial creation, depicted as a woman, she represents the beauty of the feminine, depicted as the glistening one.
It is suggested that there are two parts to the mythos, the first in which Tiamat is a creator goddess, through a "Sacred marriage" between salt and fresh water, peacefully creating the cosmos through successive generations. In the second, Tiamat is considered the monstrous embodiment of primordial chaos. Some sources identify her with images of a sea serpent or dragon.
She gives birth to the first generation of deities; her husband, Apsu, (correctly) assuming they are planning to kill him and usurp his throne, later makes war upon them and is killed. Enraged, she, too, wars upon her husband's murderers, taking on the form of a massive sea dragon, she is then slain by Enki's son, the storm-god Marduk, but not before she had brought forth the monsters of the Mesopotamian pantheon, including the first dragons, whose bodies she filled with "poison instead of blood". Marduk then forms heavens and the earth from her divided body.
Slicing Tiamat in half, he made from her ribs the vault of heaven and earth. Her weeping eyes became the source of the Tigris and the Euphrates, her tail became the Milky Way. With the approval of the elder deities, he took from Kingu the Tablet of Destinies, installing himself as the head of the Babylonian pantheon. Kingu was captured and later was slain: his red blood mixed with the red clay of the Earth would make the body of humankind, created to act as the servant of the younger Igigi deities.