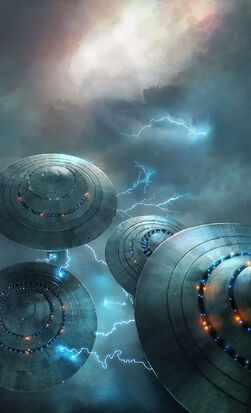 An unidentified flying object, or U.F.O., in its most general definition, is any apparent anomaly in the sky that is not identifiable as a known object or phenomenon. Culturally, UFOs are associated with claims of visitation by extraterrestrial life or government-related conspiracy theories, and have become popular subjects in fiction. UFOs are often identified after their sighting. Sometimes, however, UFOs cannot be identified because of the low quality of evidence related to their sightings.
Studies have established that the majority of UFO observations are misidentified conventional objects or natural phenomena most commonly aircraft, balloons, noctilucent clouds, nacreous clouds, or astronomical objects such as meteors or bright planets with a small percentage even being hoaxes. Between 5% and 20% of reported sightings are not explained, and therefore can be classified as unidentified in the strictest sense.
Stories of fantastical celestial apparitions have been told since antiquity, but the term "UFO" (or "UFOB") was officially created in 1953 by the United States Air Force to serve as a catch-all for all such reports. In its initial definition, the USAF stated that a "UFOB" was "any airborne object which by performance, aerodynamic characteristics, or unusual features, does not conform to any presently known aircraft or missile type, or which cannot be positively identified as a familiar object." Accordingly, the term was initially restricted to that fraction of cases which remained unidentified after investigation, as the USAF was interested in potential national security reasons and/or "technical aspects".
During the late 1940s and through the 1950s, UFOs were often referred to popularly as "flying saucers" or "flying discs". The term UFO became more widespread during the 1950s, at first in technical literature, but later in popular use. UFOs garnered considerable interest during the Cold War, an era associated with a heightened concern for national security. Various studies have concluded that the phenomenon does not represent a threat to national security nor does it contain anything worthy of scientific pursuit.
Ad blocker interference detected!
Wikia is a free-to-use site that makes money from advertising. We have a modified experience for viewers using ad blockers

Wikia is not accessible if you've made further modifications. Remove the custom ad blocker rule(s) and the page will load as expected.