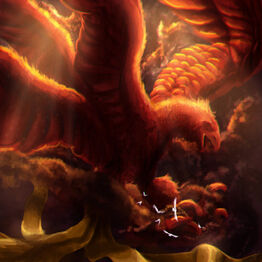 "It once happened that travellers on a vessel noticed a bird. As he stood in the water, it merely covered his feet, and his head knocked against the sky. The onlookers thought the water could not have any depth at that point, and they prepared to take a bath there. The bird the travellers saw was none other than the Ziz. His wings are so huge that unfurled they darken the sun. They protect the earth against the storms of the south; without their aid the earth would not be able to resist the winds blowing thence.The fluid from it flooded sixty cities, and the shock crushed three hundred cedars."
Ziz is a giant griffin-like bird in Jewish mythology, said to be large enough to be able to block out the sun with its wingspan. It is considered a giant animal/monster corresponding to archetypal creatures.
Rabbis have said that the Ziz is comparable to the Persian Simurgh, while modern scholars compare the Ziz to the Sumerian Anzu and the ancient greek Phoenix.
While Leviathan is the primordial creature of the seas, with Behemoth being the ruler of the land, Ziz is the primordial beast that rules the skies. Ziz's size is as monstrous as Leviathan himself. It is said that his ankles rest on the earth while his head reaches the very sky. 
Ad blocker interference detected!
Wikia is a free-to-use site that makes money from advertising. We have a modified experience for viewers using ad blockers

Wikia is not accessible if you've made further modifications. Remove the custom ad blocker rule(s) and the page will load as expected.